The Rees Hotel: Wake Up In Alpine Luxury Amongst Lake Wakatipu
A private retreat serving Bordeaux wine, local cuisine and rich history.
The Rees Hotel in Queenstown, resting upon the natural wonder of Lake Wakatipu, is more than just a gorgeous retreat in New Zealand's tourist capital. The hotel celebrates the life of William G Rees, the European settler regarded as the founder of Queenstown, complete with art works and rare books dedicated to educating the rich history of Queenstown and Rees' love affair with the stunning landscape.
Whether it's a visit with the family or a luxury getaway, The Rees Hotel is perfect for your holiday needs. With gym facilities, an extensive wine collection featuring Bordeaux wines and leading Central Otago wines, and a private jetty stretching into the crisp Lake Wakatipu, Rees has everything you need for the ultimate getaway.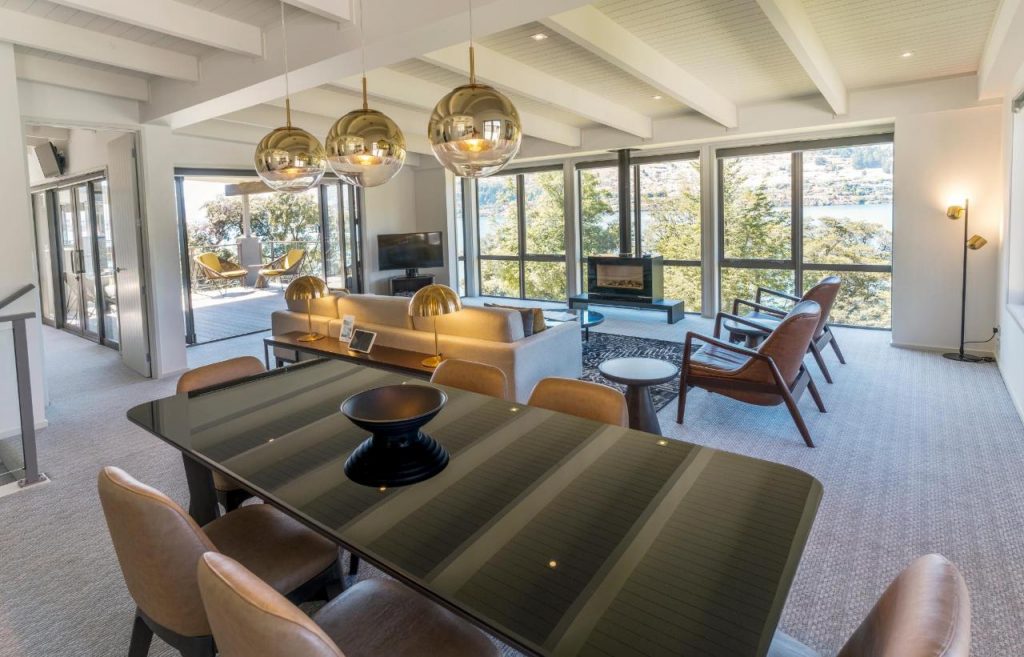 Location
Situated 1.8 km from town centre, Rees Hotel offers a quiet, soothing stay from the bustling crowds, yet easily accessible by complimentary shuttle bus. For a unique travel from the airport, consider their 'Cycle The Rees' package.
You'll be welcomed by Rees' friendly staff, guided around Lake Wakatipu via bicycle tour, arriving to the hotel with a glass of wine or beer and your bags awaiting in your room.
Rooms
The Rees Hotel provides guests with the opportunity to gaze upon the crystal waters with your very own Lakeside View in select packages.
Their charming hotel rooms feature Italian designed spa bath, Super King Rees bed, comfortable home amenities and free wifi, with complimentary movies updated monthly. Rees Hotel Apartments expand the homely feel, ranging from one to three bedroom apartments with full kitchen, fireplace and outdoor dining areas to relax over your lake views.
The Lakeside Residence offers guests a private, homely environment while maintaining the exclusivity of a 5 star hotel.
Enjoy the three bedrooms with ensuites spread over two storeys, featuring large living areas and terraces complete with hot tub overlooking Lake Wakatipu.
Food and Dining
True South Dining Room strives to cultivate local ingredients and recipes for guests to indulge in New Zealand's finest cuisine. The award-winning culinary expertise of executive chef Ben Batterbury ensures True South Dining Room delivers high quality ingredients from suppliers in Central Otago, reducing food miles and promoting local sustainability. The seasonal changes and daily tweaks equate to a truly unique dining experience, every single meal.
The Rees Hotel is home to an extensive and largest private wine cellar in Queenstown, stocking fine Bordeaux wines from the Southern Hemisphere, along with drops from Burgundy and beyond. Their passion for all visitors to savour the tastes of the many wines on offer, from a plethora of sources, guarantees a flavour for all to enjoy.
Things to Do
Rees Hotel offers free shuttle services to and from the main town centre, for you to enjoy all that Queenstown has in store. Talk to one of the friendly staff who are more than willing to help you into town centre.
To fully enjoy the surrounds of Queenstown, be sure to book in a visit to Bob's Peak via the famous Gondola. The wired structure will take you 450 metres above Queenstown's busy centre, witnessing the fantastic views of Lake Wakatipu and Remarkables as you elevate to the top of the peak. At the top awaits Skyline's Luge, a fast-paced ride down a crafted track to combine thrill with beautiful surrounds. For more information, click on this link:
Arrowtown, just 30 minutes from Rees Hotel, contains biking and hiking paths for the outdoor enthusiasts, several golf courses, along with heritage streets filled with historical gold rush legacy to explore.
Highlight
Despite the bustling atmosphere of Queenstown's town centre, Rees Hotel provides tranquillity with quiet surrounds, panoramic alpine views reflected upon Lake Wakatipu and spacious, luxurious accommodation just a few minutes from the city centre. Their exceptional customer service, particularly the tour planning at concierge, proves extremely helpful for planning your adventure around Queenstown.
Verdict
If you are looking to experience all that Queenstown has on offer, while enjoying the peaceful privacy of dipping your toes into the calm waters at the end of a busy day, Rees Hotel is perfect for you. Their collection of art, literature, wine, and luxury accommodation within city's reach is the ultimate destination for all guests to discover.